Materials quoting for concrete, asphalt, aggregates, and more
"When we saw the quote-to-cash workflow in Material Pro, we had an 'Aha!' moment. This software doesn't just automate our sales workflow; it helps us improve the whole process."

Mark Timm, Analyst

Miles Sand & Gravel
Access customer data wherever you are
Material Pro sales and project quoting tools give you access to customer accounts and activities from a tablet, smartphone, or laptop. Ready-mix and bulk materials producers worldwide are using this app to streamline their entire sales cycle.
Record customer interactions.
Update account information.
View customer "scorecards."
Create quotes on the go.
Track customer activity, project outlooks, and performance – and better yet, share it with them.
Contact us today to explore how Material Pro can help simplify your operations from start to finish.
CRM & Quoting for ready-mix & bulk construction materials
Not all sales opportunities begin with a phone call. Or a hot tip. Or an RFP. The Material Pro app offers a flexible way to manage your sales pipeline no matter where a project starts. Salespeople can record important data from customer meetings or discover new construction opportunities and pin the location in real-time. No matter what you need – or where you go – Material Pro ties together customer records, pricing, statuses, and results for a complete quote-to-cash record of every job you quote.
Contact Us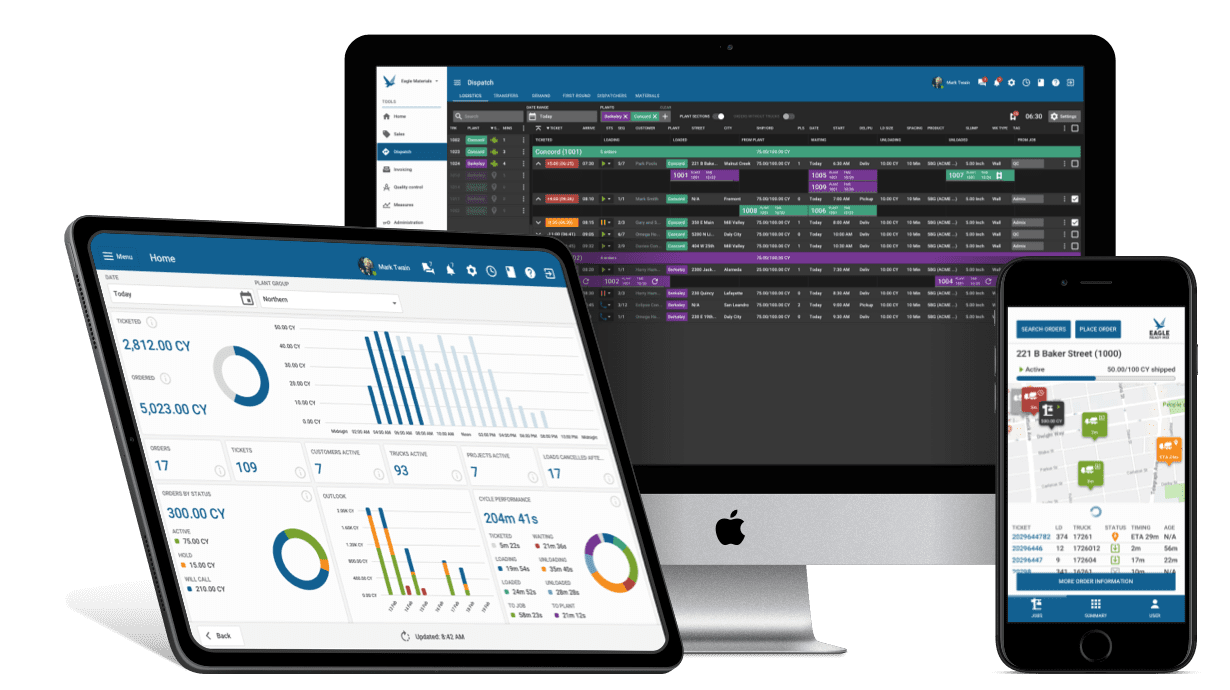 No more duplicate entries: less room for error
The BCMI Platform is fully integrated. This means the opportunities and quotes you create in Material Pro seamlessly become scheduled orders in the BCMI Logistics dispatch system. No need for re-entering data (and adding typos). Wasting time trying to locate customer details and their project history is a thing of the past. With our cloud-based dispatch software, it's all a click away.
Stay ahead of customer inquiries & questions
In the world of ready-mix concrete and bulk construction materials, customer service can be tricky. By incorporating BCMI's Material Pro app, your team can respond to customers' needs confidently. Check on the status of a project before job site arrival or send a reminder about tomorrow's "will call" order.
No matter what you may need, BCMI is here to help you provide answers and solutions before the questions are even asked.
We're here to help
Got questions about how Material Pro can turn saved time into profit? Talk to us today and schedule a demo of our cloud-based mobile tools.