Miles Sand & Gravel Wins Concrete Cares Award
March 3, 2021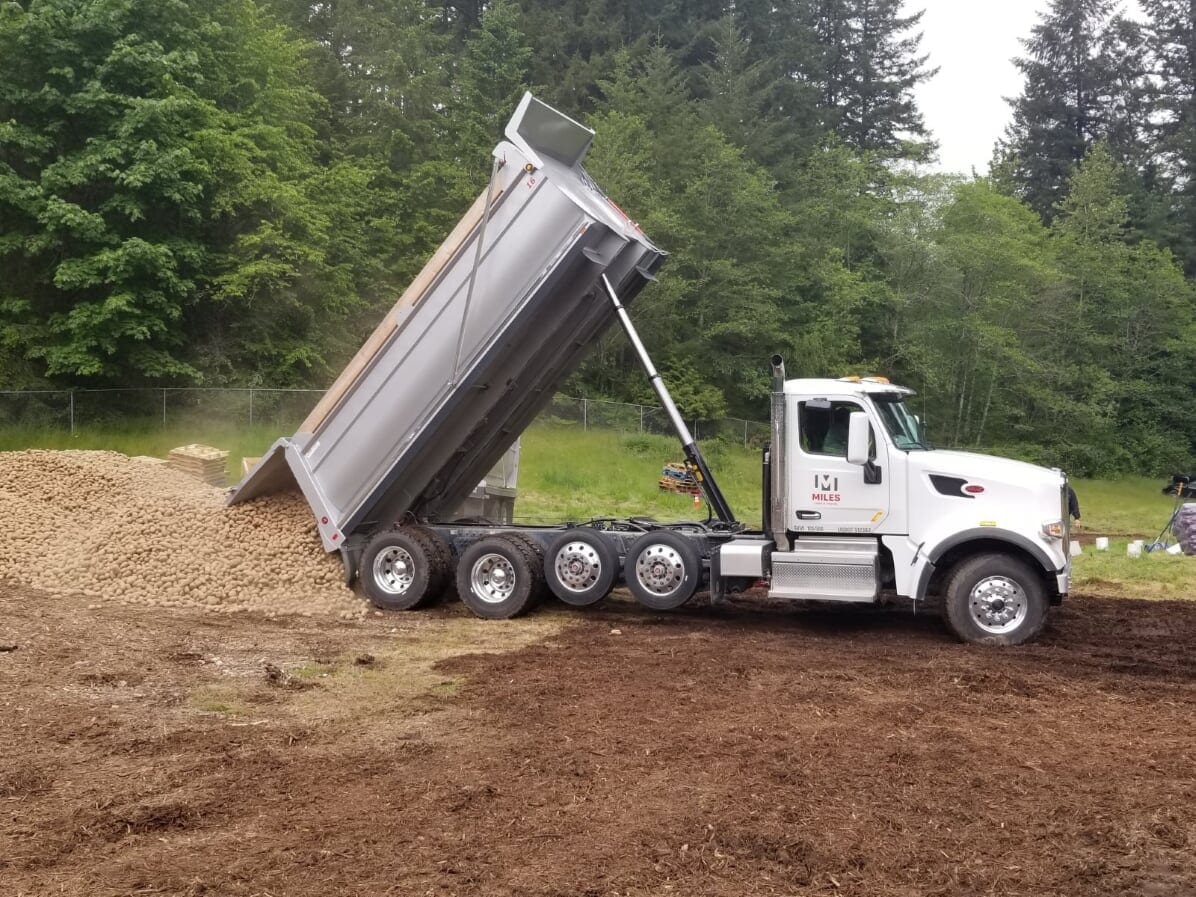 The National Ready Mixed Concrete Association (NRMCA) named Miles Sand & Gravel of
Puyallup, Wash., a 2021 Concrete Cares Award recipient for making a difference in their
community during the COVID-19 pandemic. Miles, a BCMI producer partner, was honored during
a special awards ceremony at NRMCA's virtual annual convention March 2.

The Pacific Northwest's economy where Miles Sand & Gravel operates was hard hit by COVID19-related shutdowns, resulting in many people out of work. On a Friday in May 2020, Miles
redirected two of its aggregate trucks to haul potatoes that farmers were unable to get to market
due to the pandemic, transporting them to EastWest Food Rescue, which serves Washington
State's greater Puget Sound region.

Miles drivers Lee Aipperspach and Gordy Needham delivered more than 40 tons of potatoes to
Woodinville, Wash. Instead of being destroyed in the fields, the produce was bagged by
volunteers and distributed to local food banks to feed thousands of citizens of Pierce, King and
Snohomish counties. "[This] was such a great experience," said Needham via Facebook
comment. "I'm really glad I was able to be a part of it!"

The effort was part of a larger community service initiative. Miles VP and General Manager Jerry
Trudeau organized Miles' contribution, which led to the company dedicating 35 manhours to the
project. Although this was Miles' first time working with EastWest Food Rescue, the company
has previously donated to food banks in Bonney Lake and Puyallup and has organized employee
food drives at its annual holiday party.

Miles has continued to operate steadily since the beginning of the pandemic, despite navigating
an uncertain construction market. In a Concrete Producer magazine article published September
2020, which mentioned the volunteer effort above, COO Mike Schuh explained, "We're thankful
that we've been able to continue operations, and our employees are happy to be healthy and
working."
BCMI is honored to work with Miles Sand & Gravel, a long-time champion and key producer in
the industry-driven Bulk Construction Materials Initiative.

About the Concrete Cares Award
The Manufacturers, Products & Services Division of NRMCA established the annual Concrete
Cares Award to recognize outstanding contributions in community service by an NRMCA
producer member company. The Concrete Cares Award aims to recognize members' volunteer
efforts and shine a national spotlight on the positive impact ready mixed concrete companies
have in hometowns across the nation. Each year, NRMCA presents the award during an awards
ceremony and makes a donation in the name of the honoree to the charity of its choice.
ABOUT BCMI
The Bulk Construction Materials Initiative (BCMI) provides a platform (BCMI Platform) of cloudbased, mobile software tools for the business of ready mixed concrete, cement, aggregate and
asphalt. Materials producers and BCMI Corp., an industry based, enterprise-level software
company, have combined expertise to develop tools that span all phases of sales,
manufacturing, logistics, billing and analytics.
The Material Pro app for materials producers, and Material Now app for contractors, provide
visibility and a deeper level of communication and partnership throughout the industry. BCMI's
cloud-based logistics solutions – including quoting, dispatch, mix management, and invoicing –
allow materials producers to operate on a truly modern, integrated platform